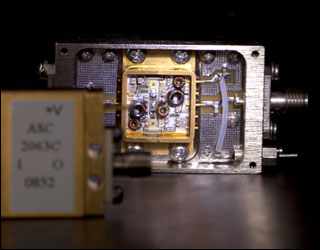 Amplifier Solutions Corp. (ASC) was founded in 2004 by a team of experienced engineers from Phoenix Microwave (M/A-COM).
Amplifier Solutions Corporation is a designer and manufacturer of RF & Microwave hybrid amplifiers for the military and commercial markets. ASC's thick film hybrids utilize GaAs FET, silicon bipolar transistor and MMIC technologies to achieve low to medium power output in the 300 kHz to 6 GHz frequency band.
ASC's amplifiers are ideal for signal amplification applications that require super linearity, low to medium output power, low noise, high reverse isolation, low distortion, and/or wide bandwidth.
ASC's most recent design efforts leverage advances being made with GaN semiconductor technology.
Facility
ASC is located in a 8000 square foot facility in the town of Telford which is in Southeastern Pennsylvania. ASC has the ability to operate multiple shifts and leverages existing relationships with contract manufacturing partners.
Business Philosophy
Our mission is to offer our customers custom RF & Microwave amplifier solutions that provide performance and cost advantages. We encourage customers to contact ASC's engineering team directly as we believe it is critical to understanding the application and in turn recommending the best amplification solution.
ASC offers excellent customer support and takes pride in the ability to quickly react to evolving system design requirements.